Biographical entry

Sunderland, Sydney (1910 - 1993)

FAA
Born

31 December 1910
Brisbane, Queensland, Australia

Died

27 August 1993

Occupation

Anatomist and Neurologist
Summary
Sir Sydney Sunderland was a member of the Faculty of Medicine at the University of Melbourne from 1939. He was Professor of Anatomy 1939-1961, Professor of Experimental Neurology 1961-1975, Dean of the Faculty of Medicine 1953-1971 and a member of the University Council 1951-1967.
Details
Born 31 December 1910. Died 27 August 1993. Foundation Fellow, Australian Academy of Science 1954.
Related entries
Published resources
Journal Articles
Darian-Smith, I, 'Sydney Sunderland 1910-1993', Historical Records of Australian Science, 11 (1) (1996), 51-65. http://www.publish.csiro.au/paper/HR9961110051.htm. Details
Sunderland, S., 'Edgar Samuel John King', Records of the Australian Academy of Science, 1 (2) (1967), 87-96. http://www.publish.csiro.au/paper/HR9670120087.htm. Details
Resources
Digital resources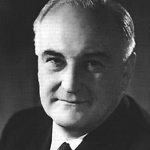 Title

Sydney Sunderland

Type

Image
McCarthy, G.J.
Created: 20 October 1993, Last modified: 24 July 2018