Biographical entry

Laby, Thomas Howell (1880 - 1946)

FRS
Born

3 May 1880
Creswick, Victoria, Australia

Died

21 June 1946

Occupation

Chemist and Physicist
Summary
Thomas Laby, Professor of Natural Philosophy, University of Melbourne 1914-1942, was formerly Professor of Physics at Victoria University College, Wellington, New Zealand 1909-1914. He shared in the design of one the first anti-gas respirators. Laby was also Chairman of the first Optical Munitions Panel during the 1940s.
Details
Born 3 May 1880. Died 21 June 1946. Educated University of Sydney and Emmanuel College, Cambridge (BA 1907, ScD 1921). Demonstrator of chemistry, University of Sydney 1901-05, 1851 Exhibition Scholar 1905-08, Professor of Physics, Victoria University College, New Zealand 1909-15, Professor of Natural Philosophy, University of Melbourne 1915-44. Commonwealth Adviser on Radium 1929-37, Consulting physicist, Imperial Geophysical Experimental Survey 1929-31, Chairman, Optical Munitions Panel 1940-44, Member, Army Inventions Directorate 1943, President, Section A, Australian and New Zealand Association for the Advancement of Science 1911, 1928, first President, Australian branch, Institute of Physics 1939-41. President of the Royal Society of Victoria 1924. A physics lecture theatre at the University of Melbourne was named after him.
Related entries
Colleague
Heads of Department
Archival resources
The University of Melbourne Archives
Thomas Howell Laby - Records, 1908 - 1937; The University of Melbourne Archives. Details
Published resources
Encyclopedia of Australian Science Exhibitions
Articles
Books
Book Sections
Journal Articles
Resources
Resource Sections
See also
Digital resources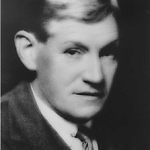 Title

Laby, Thomas Howell Portrait

Type

Image
McCarthy, G.J.
Created: 20 October 1993, Last modified: 13 February 2018